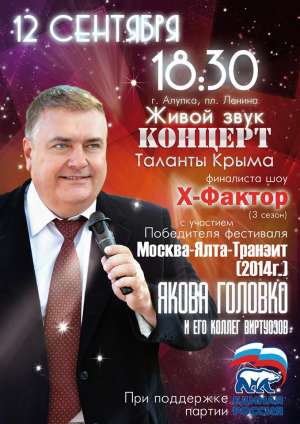 Состав: 1
Гонорар (от): 45000.00 руб.
Гонорар (до): 100000.00 руб.

Exclusive solo execution of the best songs from the American musicals and movies (1920-1970), becomings the hits of F.Sinatra, L. Armstrong, Nat-King-Cole ..with the use of "-1"(150 songs).
live performances on different grounds and measures.At presence of "living" collective in place there are scores(to 45 min.).
A fee=is 2000у.е.(to 60 min)+passage(by any types of transport)+hotel(if there is not possibility of departure after a performance in the flow of reasonable segment of time).
Technical requirements:
acoustics of NEXO, Electro Voice, Dynacord.
Mixer stand of MIDAS, Alen & Hiath, Soundcraft, Dinacord.

Microphonic bar(I work in it cord Electro Voice CARDINAL.If in your-Shure - Beta58A), stand.

I thank you for attention.JAcobZveZdin.